7 Advantages of a Wide-Awake Hand Surgery from a Singapore Clinic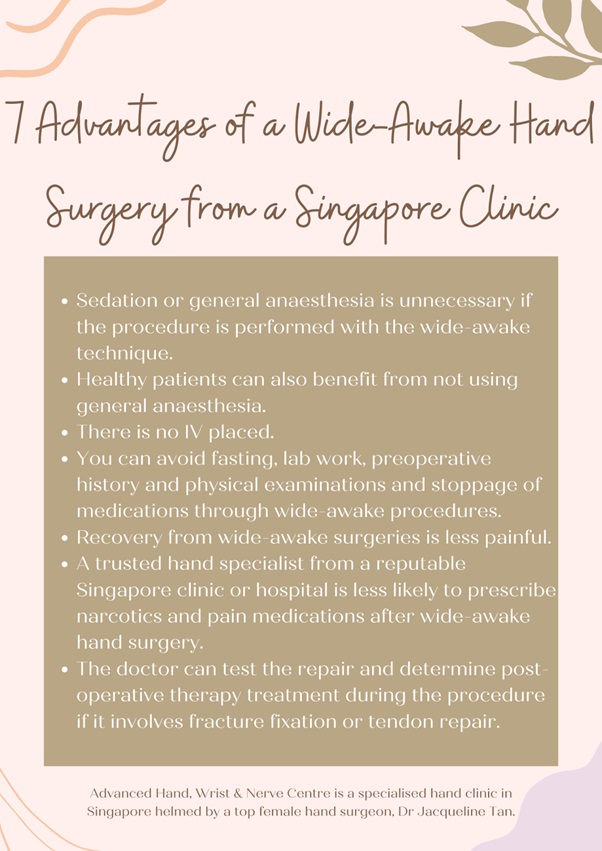 Here are seven advantages of undergoing hand surgery at a Singapore clinic using the wide-awake technique.
Sedation or general anaesthesia is unnecessary if the procedure is performed with the wide-awake technique. Avoiding the use of general anaesthesia allows patients with other medical conditions to undergo surgery that they might otherwise be not eligible for.
Healthy patients can also benefit from not using general anaesthesia. Patients that underwent wide-awake surgery are often able to return to their daily activities right after the procedure. It is due to them not experiencing any common side effects experienced with general anaesthesia, like nausea, vomiting, and general fatigue. Many patients even opt to return to work on the same day.
There is no IV placed. The hand doctor from your trusted Singapore clinic will only be administering local anaesthesia with a small injection.
You can avoid fasting, lab work, preoperative history and physical examinations and stoppage of medications through wide-awake procedures.
Recovery from wide-awake surgeries is less painful. Patients also notice that bruising and swelling are reduced.
A trusted hand specialist from a reputable Singapore clinic or hospital is less likely to prescribe narcotics and pain medications after wide-awake hand surgery.
The doctor can test the repair and determine post-operative therapy treatment during the procedure if it involves fracture fixation or tendon repair. Wide-awake procedures allow active participation from patients in the surgery. It enables the surgery team to get things correctly done before anyone leaves the operating room. It ensures optimal outcomes for both the doctor and the patient.
Advanced Hand, Wrist & Nerve Centre is a specialised hand clinic in Singapore helmed by a top female hand surgeon, Dr Jacqueline Tan. The clinic provides one-stop surgical and therapeutic services for all hand, wrist and nerve conditions that often affect movement and daily activities. Advanced Hand, Wrist & Nerve Centre treat carpal tunnel syndrome, tennis elbows, trigger fingers and more. Contact them now to book an appointment.