7 Most Durable Kitchen Countertop Materials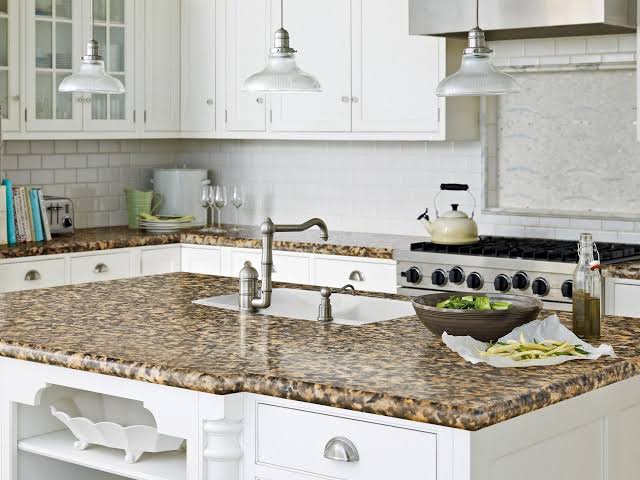 Between cooking meals, gathering family, and hosting guests, the kitchen is the heart of many homes, which means your countertops need to be durable enough to last through the years. To get the most out of your investment and create your dream kitchen you'll want to consider aesthetics as well as functionality. Here are some of the most durable countertop materials on the market.
Tried and True Granite
Granite countertops are a staple in many new homes because of their ability to withstand wear and tear while maintaining a clean, polished look. In the past, this material was viewed as a luxury, given the high price tag associated with it. Today, granite is a quality material at more affordable prices, with thousands of styles, meaning you'll be sure to find the perfect match for your home.
Colorful Quartz
Quartz is another popular kitchen countertop material because it combines the natural beauty of the rock with reinforcing elements like polyester resin, allowing for the creation of many colors and patterns. This material is designed to be resistant to scratches and stains, making it an ideal option for heavily used kitchens. Additionally, the nonporous surface helps to prevent the spread of bacteria and does away with the need for a sealant.
Affordable Solid-Surface
Solid-surface countertops include man-made materials such as acrylics and polyester resins. This type of countertop is ideal for larger kitchens with a lot of countertop surface space because it is far more affordable than granite or quartz. Solid-surface countertops come in a wide variety of colors and are a popular option among homeowners because they are easy to repair. Any damage can be quickly fixed with a sander.
Versatile Concrete
Concrete has seen a boom in popularity lately as the modern industrial image has become more mainstream. This is a great choice for people who want an edgier look, but don't want to sacrifice the quality and durability that comes with other materials for their dream kitchen. Concrete can be left rough for a more natural look or polished to have a nice shine and create a smoother work surface.
Timeless Wood
Wood countertops are seeing a resurgence in kitchen construction as more homeowners are moving towards a cozier, rustic aesthetic. One of the main reasons people choose wood countertops is because they gain character as they age over time with regular use. Stains, scuffs, and dents that might not be as appealing on other surfaces are welcomed with wood countertops and work to tell the story of the kitchen. However, this surface does require some occasional maintenance like oiling and sealant to prevent cracking.
Stainless Steel
For fans of more modern design, stainless steel countertops are the way to go. This professional-looking material will make you feel like you're cooking in a five-star restaurant. The heat resistant surface is great for active cookers, but you should also be aware that the surface can get scratched easily.
Innovative Alternatives
Homeowners want more options at more affordable prices which is where alternative materials have stepped onto the scene to lend a helping hand. Recycled glass, made from acrylic and recycled glass or cement, is an eco-friendly countertop material that's resistant to heat, stains, and scratches. Many people also love that these surfaces come in blues, greens, and browns, as the result of the bottles that were used during the construction of the material. The options are almost endless when it comes to picking out the best countertop material for your dream kitchen.