What are the best dental implant materials?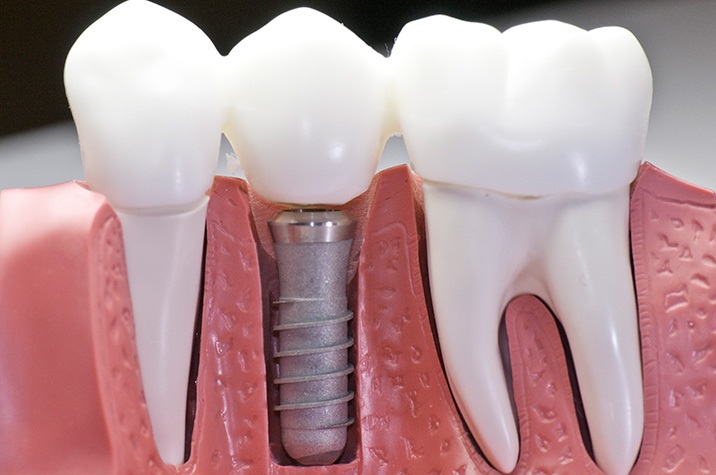 Dental implants are used to replace missing teeth. Gapped teeth can cause the rest of your teeth to move and no one likes repeat trips to the dentist – which is why you want to opt for the best dental implant material that will stand the test of time and do the job properly. But what is it?
Most common types of dental implant materials
Titanium dental implants have been around the longest, but thanks to modern technology, there are now a number of other options available on the market. The best dental implant material will be biocompatible and offer excellent resistance to corrosion and fracturing. Let's take a look at the two most common materials used to create dental implants:
Titanium is the only known metal where the osseointegration process (the connection between human bone and an artificial implant) is successful. Dental implants like these create a permanent affinity, ensure long-lasting results and are available for a reasonable price.
Zirconia is a more recent alternative to titanium and is rising in popularity. Zirconia implants were first introduced in the early 1990s and were originally used alongside their titanium counterparts.
What makes some materials better than others?
Dental implant materials all have their own advantages and unique features. But titanium has a huge proven success rate within the medical and dental industry, with titanium suppliers, like Ti-Tek, supplying all the titanium rods, bars, sheets and screws they need – delivering on quality, price and efficiency – every time.
Titanium's level of versatility sets it apart from zirconia implants. It's produced in a two-piece system; an abutment sitting on the top of the implant, connecting it to the replacement tooth, and another part surgically implanted in the bone.
Other reasons why titanium is often favoured over zirconia include:
cost

– zirconia is more expensive to manufacture and costs patients more than titanium dental implants.

osseointegration

– both are biocompatible but titanium implants last more than 20 years whilst zirconia hasn't been around long enough to assess long-term success.

ease of placement

– titanium implants are easy to place without complications. Zirconia is more challenging.

strength

– zirconia and titanium are both hard and strong but zirconia offers less elasticity which results in micro fractures.
However, some patients have raised concerns about titanium implants developing a visible grey line beneath the gum or along the tooth ridge. Zirconia, on the other hand, is renowned for its aesthetics and offers a natural white tooth colour and doesn't show through the gum tissue.
Could a titanium implant be right for you? Find out by contacting your dentist today. Or for more information about titanium rods and their uses, feel free to get in touch with the team at Ti-Tek. Always on hand to help, they will happily share their expertise and answer your questions. Call them on 0121 382 4121 or send an email to [email protected].