Are You Required to Take Drivers Ed for Your Drivers License?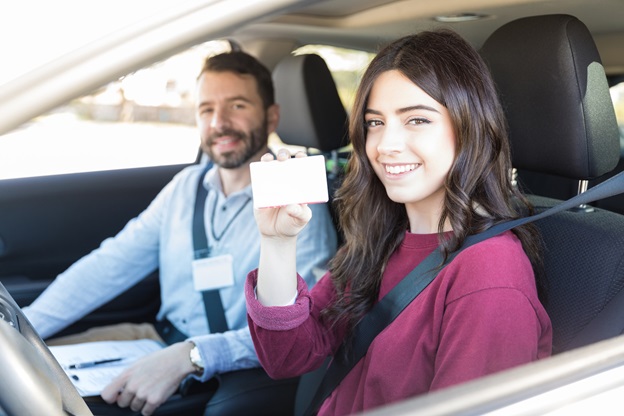 Getting your driver's license is a huge rite of passage that can be both exciting and nerve-wracking for many first time drivers. After you receive your learner's permit you may be aching to get behind the wheel, but you probably also have a lot of questions about the process of obtaining your license. Driver's ed has been proven to significantly reduce teenage traffic accidents; however, it may not be a mandatory step in getting your license depending on your state. Regardless of if your state requires driver's ed or not, it is an invaluable resource for new drivers.
Is Driver's Ed Mandatory?
Well, it depends.
Some form of driver's education is required for the majority of U.S. states. The requirements vary based on your age and your state's laws. For instance, in California teens under the age of 18 must show completion of 30 hours of formal classroom driver's education. Six hours of behind-the-wheel training is also required for teens under the age of 17. Driver's education and behind the wheel training are important steps for preparing for the DMV driver's test so familiarize yourself with your state's driver's education requirements as early as possible to avoid any surprises down the road.
Why is Driver's Education Important?
DMV-approved driver's ed courses are an opportunity for new drivers to learn a specific set of skills from a licensed professional. During the lecturing portion of driver's ed new drivers are introduced to driving laws, state driver's license information, traffic control basics, and other essential information you'll need to know to safely and legally operate a vehicle on the road
Once you move onto behind the wheel training you'll get supervised hands-on experience in which you'll learn how to turn, maintain lane control, park, share the road, and more. Getting formal driving training as opposed to learning from a family member or friend can be less stressful for new drivers and will ensure that you get a comprehensive understanding of traffic rules and operating a vehicle.
Are Courses Available Online?
Yes! Thanks to modern-day technology you can now take the lecturing portion of driver's ed courses from the comfort of your own home. Through interactive games, videos, and infographics, online driver's ed offers an engaging introduction to driving that allows you to complete courses at your own pace and on your own schedule. The convenience and affordability of online courses make it a great alternative to traditional driver's ed.
Should I Take Driver's Ed at a Driving School?
While online courses are a great fit for many new drivers, some people prefer traditional face-to-face learning. Driving school is a beneficial option for the following reasons:
Personalized Learning: Driving school courses are tailored to answer any questions and concerns new drivers may have. The Q&A format of a driving school cannot be accomplished in an online setting, so more inquisitive students may find this to be a good fit. Over the course of the program, driving school instructors are able to analyze each student's learning style and adapt lesson plans to fit their needs based on face to face interactions.
Flexibility: New drivers are often high school students and students often have to juggle school, work, family, sports, social life and extracurricular activities making their schedules very hectic. Unlike after school driver's ed, driving schools offer weekend and evening classes so you can plan your classes based on your schedule.
Up to Date Information & Tools: Quality driving schools will be up to date on the latest traffic laws, educational strategies and driver's ed equipment. For example, Alliance Defensive Driving School's training vehicles feature both a gas and brake pedal on the passenger's side as opposed to older driver's ed vehicles that only include a brake pedal. This offers more control for the instructor and more safety for the driver. Selecting a driving school that stays current with its teaching methods and equipment can benefit your driving education and safety.
Driver's ed courses are invaluable resources for new drivers to acquire skills, knowledge, and experience in driving with a certified staff member. While there are many different regulations and options for driver's ed, finding a program that suits you will help you on your journey to becoming a licensed driver. The qualified staff of instructors at Alliance Defensive Driving School strives to nurture and educate each student in a safe, interactive atmosphere. Contact us today at 760-891-5919 to learn more about our driving lesson packages.